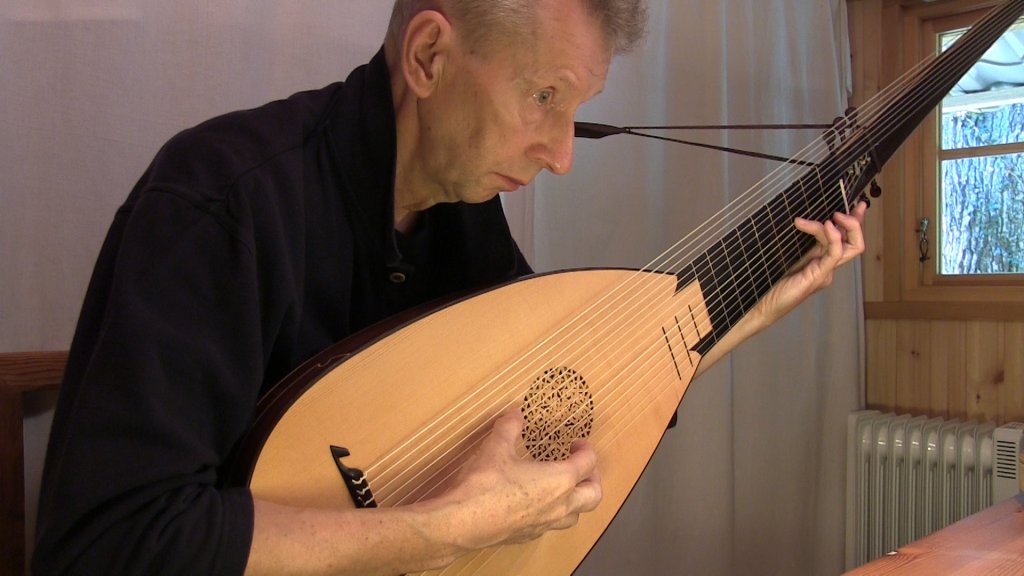 Stefan Olof Lundgren / Biography in Pictures
To the memory of Clarie and Olle Lundgren
---
Lundgren-Edition / Leaf-Music / S.O.L.: Compositions / Online Lute Tutor / Henrike Broese Lundgren: Art / S.O.L. on You Tube
---
The Lute Calendar, March 19th, has now a new version of the Branle Gay from the Thesaurus Harmonicus (1603).
Download the new version for free.

If you don't already have the Calendar perhaps you would like to know how the other 364 pieces are like. Read more here.
---
---

---
The first 16 preludes are from my CD's Eisenhand (1997) and Alvaret (2002), shown with the complete tablatures following the music.
The last eight preludes are from 2017 showing me playing "life" during the recording sessions.
The DVD can be seen and heard on You Tube, but for you who likes to have the DVD reachable in your "videothek", just click on the button below:
€ 9.00 + Air Mail € 4.00
---
The fast start to the most popular books and DVDs:
The Tutors / A Piece for Every Day / J.S. Bach / J. Dowland / Get Together / Lautenbüchleins / The Movies / New Lute Music
---
"24 PRELUDES" Op. 20 (1997 - 2017) 1:27:35
John Dowland "SEVEN SONGS AND A GALLIARD" (2012) 36:58
J.S. Bach "6 SUITES A VIOLONCELLO SOLO" for Theorbo Solo (2011)
BWV 1007 / BWV 1008 / BWV 1009 / BWV 1010 / BWV 1011 / BWV 1012
"SEVEN DANCES FOR THE MOON" (2010) 27:23
"DER LAUTENTHALER " (2009) 1:04:51
"TROLL EYES " (2008) 25:51
"THE LUTE CALENDAR" Winter (2005) 1:10:24
"GUDASAGA" (2003 / 04) 3:01:15
"ALVARET" (2002) 1:16:15
"DER CID " Op. 29 (2001) 1:10:54
"ALBUS" Op. 26 (2000) 1:08:28
"EISENHAND" (1997) 59:01
---
---
---
---
---
---
---
---